A Branding agency has the ability to work wonders for your brand. They ensure that the first impression you leave on your audience is imprinted on their minds forever. Right from the tone, vision, mission, product packaging, and website, a branding agency takes responsibility for all. This will be the reason why people will choose you over others. For any kind of business, it is crucial to attract and retain loyal customers, and branding serves the purpose.
Strategic and consistent branding helps in creating brand equity. According to a study by MoEngage consumers are most frustrated with inconsistent brand messaging. The ongoing effort will result in establishing long-term relationships with your customers. Hence only then can the brand lead to a steady increase in sales, word-of-mouth referrals, more projects, and advocacy for your products or services. If you wish to handle your branding, you have some work cut out for yourself. Since branding is a complex and lengthy process, you can outsource this aspect of your business to a creative agency. The cost of hiring them varies depending on the services you wish to avail yourself of.
The cost of hiring a branding agency varies based on the work involved and each of them has a pricing model in place. Below are the general factors concerned:
1. Market study

Competitor research in branding helps to determine what's down the road and getting ready to face the challenges. An analysis provides both a defensive and offensive strategic context to identify opportunities and threats. It lets you understand industry standards so that you can meet and exceed them, or tap newer markets, even measure your own growth.

2. Branding

Brand positioning is the process of distinguishing yourself from your competitors in a way that your target audience chooses you. Its goal is to associate your firm with an idea or category in the minds of people who might buy your services. Expensive projects will involve training and overall briefing.

3. Brand Design

Brand design is the process of crafting a brand's visual identity by creating a unified system of design elements like logos, color scheme and infographics, illustrations, pictures and more. Retainership packages for branding solutions includes different design services, which only experienced design agencies can strategize and do using brand consistency-

Logo

A logo is a brand's symbol and stamp on the world. Pricing here increases based on logo variations, the more brands you have, the more the level of detail required in your visual guidance.

Colors

Each color speaks a different language. Your brand's color scheme should be such that it invokes feelings and emotions which incline with your products and services. Let's say your brand is a fast-food restaurant, consider using red and yellow as they stimulate an appetite.

Print

Visual communication is used to convey information to an audience through crisp and aesthetic designs printed on paper, as opposed to presented on a digital platform.

Packaging

The type of packaging, the personality of the brand, research, creativity and technical aspects will include the cost of pricing. The quality of work and the number of revisions will also decide the cost of packaging design.

Website

Website design is already a huge task involving engineering work. Adding content development, research, prototyping to it. Pricing is largely based on the complexity of engineering technicality and efforts spent on the above-mentioned aspects. Website is the #2 channel used in marketing, behind social media, goes without saying that it requires special attention while branding.

4. Brand Marketing

Email alerts

Through email marketing we can alert customers about the upcoming offers for them. The cost involved depends upon the kind of campaign you are launching, its time span, type of email (transactional, behavioral, newsletters or any other).

SEO Campaign

Good quality content and SEO go hand-in-hand as relevant content earns you backlinks and provides a quality user experience. SEO will function around to your search engine's direction. SEO is all about focusing on understanding the keywords that can help generate traffic to your website. The depth of work and technical skills involved will determine the cost

Paid Advertising

Advertising can be done through billboards, print ads, TV commercials, etc. The ones that the Indian market better relates with can be implemented, each of them requires the deployment of different tools and skills. The medium of communication and duration are taken into consideration while finalizing pricing.

Social Media Platforms

The frequency of posts, campaigns, videos, paid promotions will decide the pricing of social media marketing. Pricing also varies as per the platform you choose to promote your brand. Many agencies charge on an hourly basis as well.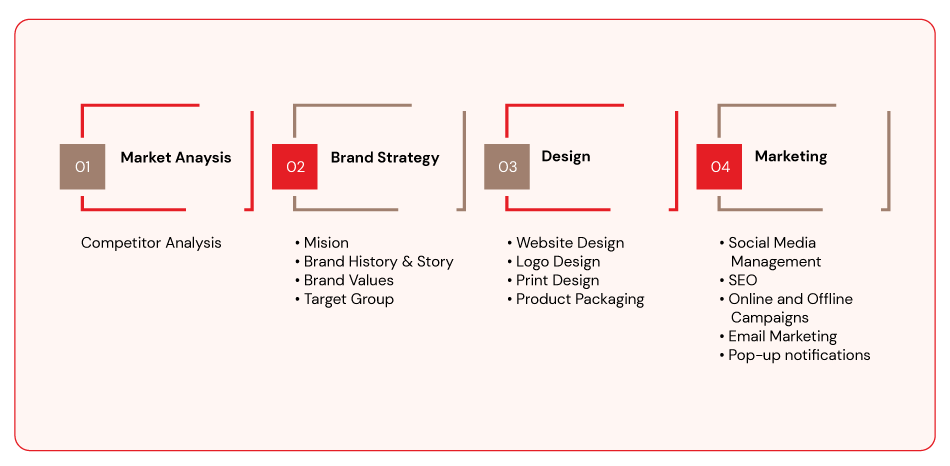 Brand reputation cannot be built overnight; consistency is the key. Running a business smoothly is anyway a 24/7 job, burdening yourself with promoting the brand may leave you overwhelmed and drowned in endless tasks. It's always a good idea to hire a branding agency who can take this load off your shoulders. Creative agencies can help businesses with any branding issue they might be struggling with. Granth offers a plethora of such services, right from creating a brand identity or communicating your company values through compelling and timeless designs; we do it all.